Special Services 2
Transportation & Logistics
Just like Distribution facilities, Transportation, Intermodal, Ports, and Logistic facilities depend upon the rapid movement of freight, and security should facilitate their speedy movement while minimizing the potential for excess loss. IMPERIAL excels at traffic controls and securing your facility.
Whatever your size business, whether a small operator or a Fortune 500 company, we can provide a superior solution to your security problems. Our skills, knowledge, and experience in this area of security is unsurpassed. IMPERIAL can provide high-value cargo escorts, another benefit of THE IMPERIAL DIFFERENCE!
Personnel Screening
IMPERIAL SECURITY Officers are highly trained in personnel screening techniques. Our Officers have an outstanding track record of detecting contraband and finding merchandise on employees attempting to circumvent the screening process. If you have issues with excessive losses at your facility, IMPERIAL can help! Another IMPERIAL DIFFERENCE!
Retail Security
Retail security, in contrast to Distribution or Transportation security, presents different issues for the security professional, from premises liability to workplace violence, and shoplifting. Access control is less regulated for businesses open to the public; however, the security officer needs a strong command presence, conflict de-escalation skills, and the ability to deal with people. IMPERIAL's professional retail security specialists are specially selected and trained to fulfill this mission for our clientele.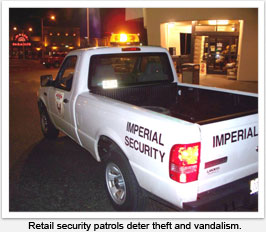 Officers Trained in Retail Security
Loss Prevention
Premises Liability
Proficient in Verbal Judo De-escalation Techniques
Trained to Interface with the Public
Strong Command Presence
Additional Skills Available
CPR and First Aid Training Available
Covert Operatives and Undercover Investigations
Employee Dishonesty and Employee Theft Investigations
Hotels, Restaurants, Shopping Centers
Licensed, Bonded, & Insured